There but by the grace of God go I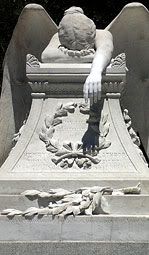 This morning, one was geared up to transmit a big dollop of cheery bike news from around the planet, but tragic local events have captured my attention. This is the question I just asked over at aus.bicycle and cm-melb.



The drivers license test

- are there

any

questions about peds & cyclists? This is probably a question that should be posed over at aus.cars. Anyway for those of you with licenses, do you recall

anything

either in handbooks or the computer tests that directly related to pedestrians or cyclists?

Today the media is full of depressing news about the terrible Mildura deaths, Victorian police admit they're bewildered over the road toll and there's more defeatist pissing and moaning about aggressive road behaviour.

At the Melbourne Connecting Cycling Conference I attended last Thursday, Dr John Pucher demonstrated how with the German drivers license: 30 / 40% of the questions directly pertaining to
pedestrian
/cyclist interactions. Suburban zones have a strict 30km limit, the Autobahns are quite another matter!

While I'm waiting for a copy of his presentation to verify my notes I've been going through the VicRoads website trying to check for references to peds/cyclists in driving tests. And all I'm finding is rather cursory references and a lot of gobbledigook. Am I missing something, as I've never driven a car, or is there a bleeding obvious lack of education, enforcement and clear speaking?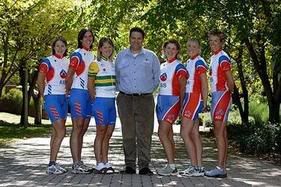 AIS 2005 squad with coach Warren McDonald

Essential viewing on ABC tonight. One story that saddens yet inspires, the other tale especially for golf-playing business buddies and assorted fuckwits.



8.00pm Tonight (Monday) on our ABC:

Australian Story: One Perfect Day
Next on Australian Story, Australian Institute of Sport (AIS) women's cycling coach Warren McDonald talks for the first time about the crash which killed one of his team members and injured five others. McDonald was driving the team's backup vehicle about 80 metres behind the cyclists and witnessed the moment they were struck by an out-of-control car in south-eastern Germany last July.


I briefly muttered something on Saturday night at Joe-dome/DISCworld about a Alexis Rhodes 'cheersquad' at the Comms Games. During the light of day, and taking into consideration I'm now sober thinking coherently, I still reckon the idea's got wings. Wotdoyathink?



At 8.30pm - more on our ABC:

Four Corners: Wheeling and Dealing
There's road rage over private tollways… Have deals between politicians and tollway bosses killed off grand new visions for public transport and decongested streets? Are they creating a road monster that leaves Australians addicted to cars?

Ride of Silence planned for May
The 2006 RIDE OF SILENCE is on May 17 at 7pm (worldwide at this time) Australia's RIDE OF SILENCE is planned for Melbourne and Brisbane. More cities may add, please register (FREE) as a co-ordinator and set up your local ROS 2006 ride by visiting web site www.rideofsilence.org
. This is a worldwide event in its 3rd year where cyclists ride to honor the memory of all cyclists killed, maimed or injured whislt doing what they love Riding a Bike. Every ride is the same, protocols on web site www.rideofsilence.org