Short and sweet
The Present ...



I can't allow the previous horrid entry remaining as lead item on this blog over the weekend. So here's a cheery little anecdote from earlier this evening.

Whilst cycling down to Goat this evening through Yarra Bend Park, I encountered a little girl riding her bike just past Dights Falls. I could see she was having a bit of strife with the training wheels while decending a rise on the bikepath. I slowed down and gave a gentle ring of the bell to let her know I was behind her. She picked up her bike, and moved to the riverbank side.

I said "Thank you very much"

She stood up proudly next to her lovely bike and said to me, "You're most welcome"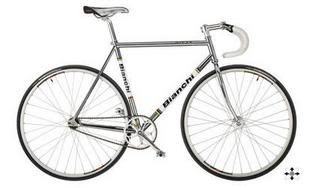 The Future ....



I don't think she was more than 5 or 6 years old. Anyway after I passed her, I stood up on the pedals and heroically caned off (ie:

wildly posing

) down towards the Collingwood Childrens Farm. We had a joke about it later at Goat. Envisage the scenario, we're at a future World Track comp/Commonwealth/Olympic Games and this (now) grown cyclist spies me in cheap seats and comes over and thanks and/or blames me. "It's all you're fault, all those early starts ... I could of bought a car by now, if it wasn't for you .." As Phil at Spinopsys mentions about the bicycle industry's killer app, simply get out and ride whatever two wheeled contraption that makes you smile today!