Celebrities ride for fun and fitness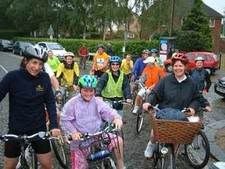 Numbers of happy smiley cyclists on the rise



Celebrities ride for fun and fitness
It can be difficult dealing with the cooler months across Australia, especially when getting the bicycle out of the shed and going for a ride through the local neighbourhood. But many Australians are looking to the two-wheeling pastime as a means of transportation - and daily exercise.

Michael Pascoe, one of Australia's most respected and experienced finance and economics commentators, said cycling to work is a growing trend and a very welcome one in Australia's car-obsessed culture. Melbourne, Sydney and Brisbane are just a few cities that have "Ride to Work" events to encourage people to get out of their cars. "If we can take people from the front seat of their car, put them on a bike and have them do 15 minutes twice a day, five days a week, that is a tremendous improvement in overall health," said Pascoe. "If people put five dollars in a jar every time they rode their bike to work, they would retire richer, healthier and younger."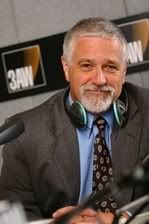 Mitchell: Bum in great shape

Neil Mitchell, who admits to being car-dependent for most of his life, has also made the transition. He rides from one of Melbourne's suburbs. His partner already had a car and it didn't make sense to pay for insurance and parking for two cars. He decided public transport was fine, but realised he could ride his bike. "It was a phenomenal financial savings,'' said Mitchell, a high-rating talkback announcer on radio station 3AW. He even travels to meetings throughout the day on his bike: "It's quicker than hailing a cab.'' What may have started out as a monetary decision quickly turned into a lifestyle choice with many benefits. Cycling to work has helped to whittle the one-time overweight Mitchell into trim and fit cyclist. "And the bum is in good shape ... when people comment, that feels so good,'' he said with slight embarrassment, adding that no one ever commented on his derriere before his daily cycling ritual.

"My job doesn't allow me to - or I guess I'm using this maybe as an excuse - to go to the gym on a regular basis and work out. Riding guarantees me close to an hour a day exercise and it's not taking away from time that is geared for other things. It's fitting in the health time. I have to move from place to place and I can use that time as opposed to driving a car or sitting in a cab and actually get some exercise.''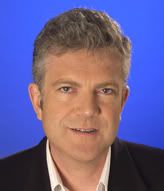 Duffy:
Cycling on the road is possibly safer than commuting the same distance

Others can't give up their daily cycling fix. Michael Duffy, who presents Counterpoint on Radio National and is a columnist for the Sydney Morning Herald, cycles to work come rain, shine or hail. "Cycling on the road is possibly safer than commuting the same distance''. Duffy said, "Riding to and from work every day was a wonderful and convenient way of making exercise part of a daily ritual." He also mentioned there are three things people needed to include when incorporating fitness into their lives: strength, flexibility and endurance.

"(Cycling) definitely helps with endurance and probably helps with leg strength. If you do stretching before and after your bike ride it probably helps with flexibility,'' he said, emphasizing that wearing a helmet, having lights and travelling on relatively easy roads and paths, as opposed to driving on freeways, make cycling a very safe form of exercise.

Mitchell, Pascoe and Duffy all agreed the simple effort of riding a bicycle to and from work results in better cardiovascular health, keeps diabetes in check, helps with osteoporosis and overall mobility. As a bonus, Duffy said the ride to work wakes him up and the ride home helps him leave work at the office. And it allows him to feel as though he's doing a little bit to cut down on the smog that often chokes Sydney.

Hook, line and sinker, plus a copy of Anglers Times? March 32nd Edition?

Further contributions from Cycling News and Mr Sheldon Brown should post something soon-ish.