Australian Rides of Silence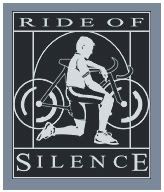 Brisbane and Sydney have now organised rides, so as I receive the information, I'll post the updates to Bicycle Justice. As previously noted, the worldwide Ride of Silence takes place in the US from 6pm on 17th May. We've made a group decision and decided this time is not appropriate for Australia, in winter in the dark on a weeknight, and thus for safety and visibility concerns our Rides of Silence will take place on Saturday May 20 at 10am.
Also I've done overdue housekeeping on the Wheels of Justice forum. This forum was created as a spillover for the yahoogroup, so go ahead, register and post away to your little hearts content. Please keep any contributions reasonably on topic or I'll read the riot act if you abuse this feature or use very naughty language.
This Friday evening in Melbourne there's a cyclist gathering at the amazing Farren Collection in Richmond, followed by the usual visit to the Land of Goat. So don the gortex and overbooties and we'll see you there.