Melbourne Memorial Ride of Silence May 20th 2006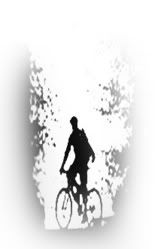 Posted on the Bicycle Justice blog, so I'll post it here too

Melbourne memorial ride to honour the memory of ALL cyclists killed whilst riding their bicycle. 10am Saturday May 20, 2006

::

Leaflet

available here

::



Assembly

: 10am Federation Square footpath corner Flinders St & St Kilda Rd, facing Flinders Street Station.
Destination
: approx 11-30am Parliament House Spring Street.


Route
: City CBD streets approx 5-8km time permitting , several loops of Swanston, Collins, Elizabeth Street and Bourke Street.


Protocol
: Two abreast, stop at red lights, obey all traffic laws, no corking, move slowly at speed of funeral procession, wear black armbands, wear any signage you think appropriate to stop disrespect against cyclists.


Invite
: friends, family, to attend and speak at finish, we aim to have media, celebrities and cycling advocates address at beginning and conclusion. Authorities are advised this is an apolitical, peaceful memorial occasion.


Note
: The worldwide Ride of Silence will take place from 6pm on 17th May in the USA, this time is not appropriate for Melbourne, in winter in the dark on a weeknight, and thus for safety and visibility concerns the Melbourne Ride of Silence will take place on Saturday May 20 at 10am
http://www.rideofsilence.org

Russell Mockridge, Anthony Marsh, Amy Gillett, Luke Harrop, Darren Smith, Saul Pasque, Matty Cole, Penny Croft, Alan Scott, Ian Humphrey, Kyle Forth, Ken Kifer, and too many thousands of others in our communities and across the world have died whilst riding their bikes, it is a sad and poignant thing that too many have died doing what they love and celebrate in their life. We shall not forget them, be there, bring friends!!

Other cities feel free to join us in this moving tribute to the memories of our cycling kin. An initiative of Melbourne Wheels of Justice, Melbourne Ride of Silence and various Bicycle User Groups of Melbourne.