Aeolian Updates :: Truck off :: Fun with 4WD ads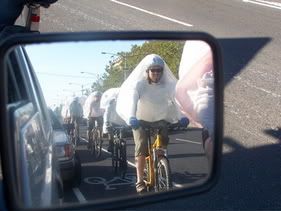 WARNING: Objects In Mirror Are having more fun than you Closer Than They Appear


Jessica has updated the Aeolian Ride site with Melbourne ride pix.
Hello World!
How are all of you? I hope you are well and doing something you enjoy - or maybe planning to :) The Melbourne Aeolian Ride went off sweetly. It was a perfect day. The riders were from of all different interests and everyone was super enthusiastic. We got a good response from peds and cars. Melbourne is a definitely good city for bikes.

Big thanks to Chris Star for organizing the ride, to all those who showed support, and to all the riders and volunteers who participated! You keep it going! Check out the latest pictures on the site. There are a few more great pictures to come - I will let you know when they arrive. A limited number of the first Aeolian t-shirts are now available for purchase online in the GOODIES section, along with a button set and the poster. Proceeds go towards funding the ride. Get yours today!!

Where will the next destination be? Interest has been expressed by people in Beijing and Amsterdam. If you or someone you know is interested in bringing the ride to these or other cities please contact me at info@aeolian-ride.info for more info. :) Stay well and keep on riding!
Jessica
www.aeolian-ride.info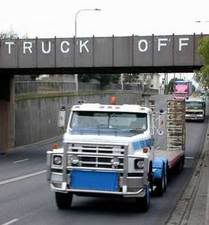 Recent graffiti on Francis Street Yarraville, image from Yarraville Residents Action Group website. NB: YRTG does not endorse the use of graffiti



In local news ::

Maribyrnong Truck Action Group

are holding their first major protest action today, go to their website + forum for more info. This issue has been affecting local residents since the Kennett Government saw fit to make Francis and Whitehall Streets in Yarraville part of the "Docklands Highway".



From MTAG:

This will be a family friendly, peaceful protest held with the cooperation of all the relevant authorities (Victoria Police, Maribyrnong City Council, Vic Roads). Although we will be stopping traffic at this intersection, we will inform truck companies and other motorists in advance and advise alternate routes; it is our intention to make a strong statement but not to grossly inconvenience anyone.



Have some fun and creatively work off any 4WD bias with this bit of fun courtesy of the folks at C.I.C.L.E ::

Subvert the Chevy Commercial Challenge Chevrolet has created a 'gimicky' website designed to advertise its monster-behemith gas guzzzler, the Tahoe. It works like this, a very simple video editing software is available online at their site. The objective is to direct a 'winning' commercial that will sell gazillions of Tahoes to unsuspecting buyers. Well, perhaps they should not have allowed the user to enter her/his own text, because that made it oh sooo easy to subvert. Way too tempting, and really quite fun too.



Here's our *special*

Aussie edition

, view while it lasts!

By the way,

who

pressed the button marked "Autumn" for Melbourne? Ecchhhh, time to get those thermals, over booties and Gore-tex jackets out of storage!