Some Mothers do 'ave 'em
Sweet creeping baby Jaysus H. Chroist. The spectacularly spastic things some cagers are capable of when they get their knobs knickers in a knot. And in a

noice

suburb like Kew ..
fcuksticks!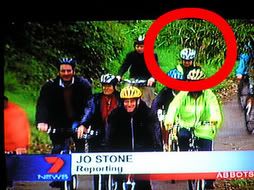 Channel Seven - gotta love it when ya see yourself on telly

In other news we found ourselves down in a meedya scrum in yesterdays delightful 'Scottish Mist' alongside the banks of the gently flowing Yarra. I attempted to emulate The Chasers Logie Bonehead antics but alas I only scored only two bonehead appearances, both courtesy of ABC news and Channel Seven, as opposed to Chas's magnificent 34 boneheads at the Logies. Jo Stone from Ch7 interviewed a DarebinBUGer and moi, but since we were so happy, upbeat and photogenic, they didn't bother use it in the evening news
bulletin. At least I got to mind Peter Batchelors bike helmet as he took questions. At least it was all in a good cause.
w00t!


Apologies to the startling brevity of this post, as one is rather time poor and have a website to upgrade from it's current fridge magnet status, a BUG meeting, several submissions to write and the Ride of Silence this weekend. Now excuse moi as I dive headfirst back into to it all.
kerplunk!