Tuesday May 9th: A wonderful day
Tuesday was a wondrous day. Not only for the bravery of Todd Russell and Brant Webb's rescue team, and the quiet dignity of Larry Knights family and the entire Beaconsfield community. Our teeny-weeny itsy-bitsy non-miracle for today is that yours truly can now breath through both
nostrils. Unfortunately my
organic hard drive is still
non compos mentis
. Fugging tonsils. Anyway enough high-pitched whinging, here's further good news, flippant news and mildly bike themed news...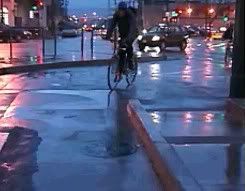 'Twas a Dark and Stormy Night in the buslane on Hoddle Street



The Farren Collection on Friday night. It duly transpired to be an delightful evening, despite the dark and stormy conditions. About 20+ brave cyclists attended the warehouse in Richmond, where Charlie and Paul gave a fun, informative talk about their extensive antique bicycle collection, it's mostly pre-1900 origins and fascinating social history. After Friday evening I realised I really do need to procure a pair of overbooties, since walking around on cold, wrinkled wet feet certainly ain't fun. Especially when they start to cramp... I was wearing thermals which helped to wick off the moisture but alack, that didn't help after a southbound 246 bus threw a huge spray of water over me while cycling down to Richmond. Possible solutions? Full length neoprene, silicon glue on the undersides of SPD cleats or reusable zipties around the ankles? Failing that, I'm seriously considering bushwalking/skiing gaiters in future wet & woolly conditions.

About a dozen cyclists later decamped to the Land of Goat where much merriment, chips and deep-fried goodness were to be had. Actually I've never witnessed so much chippage and acrylamide outside a deep fryer, hence everyone present was nicely fed and watered. We must organise another similar event again & I hope those present enjoyed the sugar-laddened psychedelic donuts.

Suuugggaaaarrrr is my friend

. Especially in cold weather.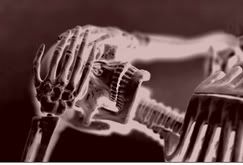 T. F. Gumby: No, no, no, my brain in my head. (specialist thumps him on the head)


Specialist: It will have to come out.
T. F. Gumby: Out? Of my head?

As numerous aus.bicycle viewers know, a.b's very own hippy, uber-cyclist, Glenvale Crit champion, co-founding Goatage participant and overposter disappeared last year to the UK. If you've been perusing his blog entries you'd know he's enjoyed many an cycling adventure, eurodoof danse par-tee, combined beverage and culinary experiences on the continent before 'settling down' in the UK for boring employment reasons. Unfortunately young hippys health recently took a rather nasty turn, but never fear, he's now on the mend! Doctors at Charing Cross Hospital have created medical history and syphoned five pints of excess Merrimans Old Fart off his brain.


Le Tour

, less than 60 sleeps to go .. Something tells me I'm gonna regret this casual observation. Have a gander at the Le Tour frontpage. Did the website designers create an deliberate imitation of an infamous interwebbie image? Or not.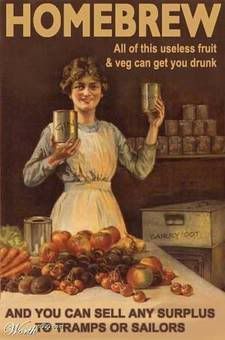 Drink!





From India

: A fridge powered by bicycle? Cool! Killer app developed for bikes! Vegetables? pah! Tinker with this application a bit further and hey presto, cold beer while you're out singletracking!




US

: The League of American Bicyclists is promoting Bike-to-Work Week from May 15-19 and Bike-to-Work Day on Friday, May 19. Thirty-five of the United States of America are organising Bike Month activities. What happened to the other fifteen M.I.A states? Off doing burnouts in their custom monster trucks or sherpherding the kiddies to school
in their Chevvy Tahoes
?
In more wondrous news
,
Del'Emma and Dan quietly took the plunge into wedded bliss on May 1 and are now respectively Mr and Mrs Hale. On behalf of the residents of Beer Can Hill, may we pass on our heartfelt felicitations. If either of the happy couple just happen to read this, a sumptuous wedding hamper is being brewed complied by our highly trained brewmeister. Delivery soon-ish.