These are the people they warned us about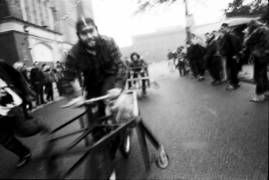 Clear the streets, return to your homes! Video of the lovely folks at
Bike Kill 2004,
with the
black label bike club.
[begin sarcasm]
We refuse to confirm or deny whether we appreciate any actions or suggested cruelty to bicycles or humans, depicted or otherwise in this video
.
[/end sarcasm]
Intrigued by the phenomenon of Tall bikes? Well pop over to
Tallbike.net
and be totally corrupted.