Visionaries in Melbourne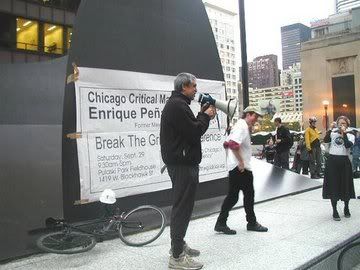 Enrique Penalosa addresses
Chicago Critical Mass
(September 2001)
Can't afford to attend the
EcoEdge Conference,
but it's pleasant to know both
Enrique Penalosa
,
Cassio Taniguchi
and Oriol Clos are visiting Melbourne. Actually it's positively inspiring!
Rescuing the city's lost soul

A teacher and designer says the development of urban centres is a recipe for disaster, writes Jenny Brown. In the ideal city of the future you would do a lot more walking and commuting on public transport. You'd possibly harvest your water and food from the roof of your building.
The roof garden would double as an oxygen producer, a mini-carbon dioxide sink and as a heat reflector. Your local office or place of employment would also have gardens and your waste water would be run off into a living wetland in order to save or 'bank' open land and fresh water bodies around your city from human and industrial pollution. You might reside in a city but you'll be thinking in neighbourhood terms because the ideal city will have contained precincts designed to cater for all your daily needs: commerce, work, recreation, culture and education within walking distance.