Cooofffeeeeeee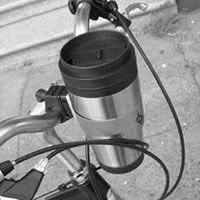 Image from Sorted Cycles - Morning Rush Coffee Holder!

Right-io, we require a couple of silent business partners to back a Melbourne version of this nifty
Cars r' Coffins
setup, and I'll happily do the admin + R&D. (Yes, I am serious!)
Fueling the bicycle culture
Two coffee shops are keeping gearheads happy with brew, bikes, T-shirts and art shows.You've heard of biker bars, right? How about bike coffee shops? The bike coffee shop is just like a biker bar, except instead of beer, there are cappuccinos, and instead of Harleys, there are Surlys. These bicycle culture hangouts are devoted to the philosophy of four wheels bad, two wheels good, and caffeine is better. The concept got its start in the Twin Cities a few years ago with the opening of the One on One Bicycle Studio in the Minneapolis Warehouse District, where you can sip a cuppa, buy a bike, look at art and scavenge for used parts in a space that formerly housed a massage parlor.

Then a few weeks ago, the Cars-R-Coffins Coffee Bar opened in South Minneapolis. That's enough for us to declare a trend in the making. It's why we pedaled across the river recently to find out how the coffee tastes in a café geared for gearheads.
Hrmmmm ... walks off, deep in thought .. walks back. Now remaining on the themes of

coooffeeee

and cycling,
Yarra Boulie
will be open again for car-free business on Sunday 12 March.

Due to popular demand, the coffee man will be back - there will also be other refreshments available on the day, or you are welcome to bring along a picnic.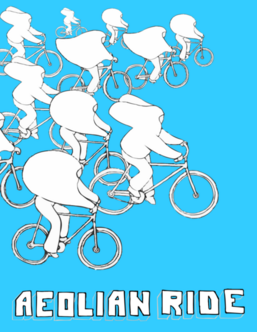 A perfect winddown from the Aeolian Ride, which incidently Jessica informs me, has been fully subscribed with 52 riders! Please feel free to register & rock up, just in case we have pikers on the day! Last Friday evening, the glorious Combat Wombat & crew helped raise $200 in donations for the ride. There's a second
Aeolian Ride Benefit Gig: $5, 7.30pm Friday March 10 at Glitch Bar.
Presentation + Videos by the amazing Jessica Findley and a *very special bicycle film* screening. If you can't make it – please feel free to donate online or buy a poster. I
f you're feeling particularly enthusiastic, the Melb version of the World Wide Naked Bike Ride is on at 2pm Sunday 12 March, Smith Reserve, George St & Alexandra Pde in jolly Fitzroy. Email bikefunnist@riseup.net for further details.

Recapping on the recent Connecting Cycling conference, here is Dr John Puchers presentation: Public Health and Urban Transport :: Promoting Safe Walking and Cycling to Improve Public Health: Lessons From The Netherlands and Germany. Remember, if you want to reference this presentation, please cite John.

Oh, and new rejigged aus.bicycle spoke cards coming soon! They will be produced on quality card & laminated, so email moi if you want one for your pedally.

Jessica's touching down in Melbourne tomorrow, so I better get back to the housework and scrubbing the floors in readiness.