Friday Mass pics, Tasman Bridge follies & USA bike news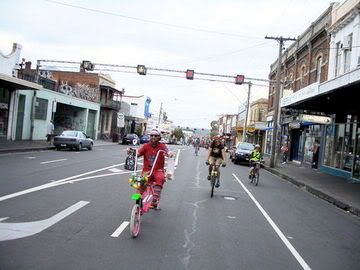 Unholy Trinity: Johnston Street Collingwood, Very, Thorin and Her

Great photos from Friday night, see here:
Lucas Chan :: Photos ::
Critical Mass Melbourne (Jan 2005) Also, CM news from Portland:
Potter pedals with Critical Mass to test his political mettle

Tom Potter's Friday? Well, there were the suit-and-tie meetings about the Portland mayor's upcoming trip to Japan and his recent takeover of the city's bureaus. There was a quick visit to a new Toyota import plant. Oh, and at nightfall, he took a spin with the city's two-wheeled pirates. At least that's how many cops and motorists see the bicyclists who participate in the monthly Critical Mass protest ride through downtown. Pedaling punks. Gear-shifting anarchists. A bunch of hoodlums with no respect for traffic laws or rush-hour motorists trying to get home after work. But Friday night, Potter -- a man who won by 23 percentage points without taking a donation over $100 -- once again showed that he takes his mandate as the city's new mayor seriously.



Several people e-mailed City Hall to berate Potter for his planned ride. It was tantamount to supporting one of the city's biggest menaces, some complained. "This is just a bike ride," Potter said as he answered a barrage of questions from TV and radio reporters before the throng of cyclists departed from their gathering spot near the North Park Blocks' giant elephant. I don't see the big deal."





Hallelujah, a politician who gets it! Now, only if we could get Cr John So (MCC), Cr Diana Asmar, (Darebin), Cr Jack Wegman, (Boroondara), Cr Mark Higginbotham (Moreland) or Cr Kay Meadows (Yarra) along for a spin to mass.





Here's a list of Victorian

Local Government Councillors

we could invite along to the local version of CM. Worth a try, certainly might prove successful than trying to invite along Andrew Bolt, see here for Alex's

polite invite

and

Andys response.

On to other stuff.



Hurt cyclist cites bridge safety
Bruised, battered and bloodied cyclist Tony Oakley wants to warn other cyclists of the dangers of riding on Hobart's Tasman Bridge. Mr Oakley, 57, of Lindisfarne, is 'in a mess' after coming off his bicycle and hitting the bridge's steel fence on Friday night. Soon after, as his wife was driving him to hospital, an ambulance was attending to another cyclist where Mr Oakley had come to grief. The ambulance service confirmed a male cyclist was injured and taken to hospital. Mr Oakley is in no doubt his accident was the result of recent painting of the bridge's footpath. "Since it's been repainted, it's like skating on ice," he said.



Think I've been out of the state too long, I'm just simply amazed anyone would ride around Hobart & the surrounding environs. Still entertaining the thought after all these years of tracking down that frigging MTT bus driver who terrified me badly enough as a kid to stop cycling.



USA - St. Cloud becoming bike friendly
When Jan Peterson's car broke down almost two years ago, she decided to bicycle 10 miles to and from her job at Chipotle Mexican Grill. Eventually, she got the car fixed. But by then, she was hooked on biking -- so hooked that she got rid of the car. Peterson cycles mainly for health reasons. This summer, there's an added benefit: She and other biking commuters don't have to worry about gasoline climbing to $2 a gallon. 'I'm aware that we're saving money, not only in gasoline but also in wear and tear on the car,' said Ted Sherarts, 70, who has biked to work for 18 years.

USA - Probe of bike death thorough


The system is working. On Thursday, exactly four months and 10 days since Josie Johnson died on a crisp autumn day while bicycling up Big Cottonwood Canyon, the driver suspected of hitting her from behind was charged with negligent homicide. Elizabeth 'Betsy' DeSeelhorst, 66, faces a Feb. 17 arraignment on the class A misdemeanor charge, after a lengthy investigation by the Salt Lake County District Attorney's Office. It is tragic from every angle. And yet, the matter is moving forward. To Johnson's friends, family and thousands of cyclists who have followed this case, getting here seemed to take forever.