Pray for New Orleans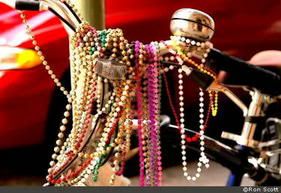 Bicycle beads - New Orleans Mardi Gras Image courtesy of ronscott.com



Years ago I my imagination was fired by tales of

Marie Laveaux

,

Storyville

and New Orlean's polygot community. Now whatever trace of this rich legacy are possible gone. No powerful

gris gris

ever could hope to stop the forces of nature and human expediency. Please, if you have a

ny cycling news or stories from New Orleans, feel free to

email me

!





Latest

: $10m aid to US Red Cross: PM The Australian Government will donate $10 million to assist relief operations in the wake of hurricane Katrina in the United States. Australians concerned about family and friends in the region can register their details with DFAT on the special hotline number 1800 00 22 14. Further details are available in the DFAT Hurricane Katrina travel bulletin

Fats Domino plucked from flood Rock 'n' roll pioneer Fats Domino has been rescued from the floodwaters of his New Orleans hometown, allaying fears that he might have perished in the grim aftermath of Hurricane Katrina, news reports said today.



Google News Latest

on

New Orlean's musicians

,

Jazz

&

Music

. If you have better N.O music links, please

email me

:: Metroblogging New Orleans
:: Australian Red Cross: Hurricane Katrina 2005
:: In Katrina's Wake: A special AlterNet package.
:: Truth Laid Bear: Hurricane Katrina Emergency Information
:: American Red Cross News
:: American Red Cross: Credit Card Contribution
:: Live streaming: WDSU Hurricane Coverage
:: Federal Emergency Management Agency



UPDATE: Excellent news summary and blog links from

Terry Teachout


".....
In light of the continuing crisis in New Orleans and on the Gulf Coast, we're starting each day's blogging with a list of links to other blogs and sites that are covering events as they happen.
....Our Girl and I recommend the
McCormick Tribune Foundation
in Chicago, which is matching donations to its Hurricane Katrina Relief Campaign, $1 for every $2 given. Contributions can be made
here
. If you'd like to see what charities have been recommended by other bloggers, go
here
. If you're a

blogger

and want to participate, go
here
..."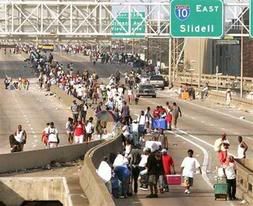 People affected by Hurricane Katrina walk on the elevated freeway in downtown New Orleans.
Red Cross sending volunteers to South. Largest effort in its 124-year history
Much like Blanche DuBois in Tennessee Williams' "A Streetcar Named Desire," the American Red Cross has always depended on the kindness of strangers. Now, it's truer than ever. The organization is mobilizing the largest relief effort in its 124-year history to aid the victims of the Gulf Coast's Hurricane Katrina. Some volunteers will be going to New Orleans, where Williams' play was set. But many others could be sent to places they've never heard of before.