Vale Deborah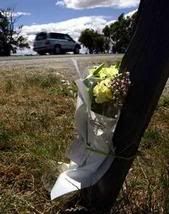 From The Age: Floral tribute: relatives placed flowers beside the Murray Valley Highway near where Mrs Gray died on Monday
Flowers and feelings follow biking tragedy


A bunch of flowers and a few spray paint markings on the Murray Valley Highway in northern Victoria were the only reminders yesterday of an accident that killed a mother of five on the Great Victorian Bike Ride on Monday. Deborah Gray, 53, of Mount Moriac, near Geelong, was on what has been described as her "one special holiday for the year" when a gust of wind blew her onto the wrong side of the road and into the path of a four wheel drive.





Relatives yesterday left a bouquet of yellow carnations and lilies tied to an old letterbox post where she died. The country policeman who will prepare a report for the coroner said Mother Nature was all that could be blamed for the accident.
Deborah is one of us, and Victoria's big bicycle community together feel the pain and grief of this terrible incident. Our thoughts are with her family and friends, may they find peace in the days to come.

From Bicycle Victoria: Update: Fatality on 2005 VicRoads Great Victorian Bike Ride :: a.b discussions: Cyclist killed on GVBR :: Sad News - death on the GVBR

I will not link to yesterdays Age article - the photo published on the front page and online is simply too upsetting. This morning on ABC 774 I heard Andrew Jaspen, The Age's editor-in chief, respond to complaints made about the use of this photo. His remarks were along the lines of reporting the incident truthfully so the public can comprehend what occured. I strongly disagree.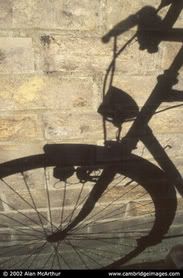 Say, heart, is there aught like this
In a world that is full of bliss?
'Tis more than skating, bound
Steel-shod to the level ground.

Speed slackens now, I float
Awhile in my airy boat;
Till, when the wheels scarce crawl,
My feet to the treadles fall.

Alas, that the longest hill
Must end in a vale; but still,
Who climbs with toil, wheresoe'er,
Shall find wings waiting there

Extract from "Going down Hill on a Bicycle, A Boy's Song" By Henry Charles Beeching